Across the Way Productions/Floydfest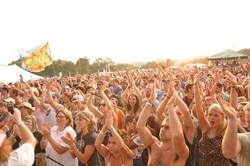 PO BOX 243
Blue Ridge Parkway MP 170.5
Floyd, VA 24091
Phone: 828-773-4911
Contact: Sam Calhoun
Email: info@floydfest.com
Website: www.floydfest.com

FloydFest is a four-day World Music Festival held annually in the Blue Ridge Mountains of Virginia, showcasing the best in World, Bluegrass, Reggae, Folk, African and Appalachian music, as well as quality local Arts and Crafts.
Join Across the Way for their other great productions of Floyd Fandango and music in Downtown Roanoke.

Turn off the Blue Ridge Parkway near MP 170.5 onto Rock Castle Gorge Road.

· Area Attractions
· Camp Grounds
· Camping
· Crooked Road Music

· Music Entertainment
· Music Festivals