W & W Produce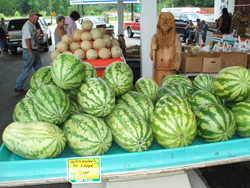 16112 JEB Stuart Hwy.
Stuart, VA 24171

Phone: 276-694-4602
Contact: Vance Agee
Email: mmstore@embarqmail.com

Specializing in local grown peaches and apples. Also, Christmas Trees in season. Many produce items including, watermelons, cantalopes, corn, onions. Tourist information available such as maps and brochures. Just outside the Town of Stuart on U. S. Route 58 4-lane highway. Gasoline and deisel available.
· Area Attractions
· Christmas Tree Farms
· Convenience Stores
· Grocery Store

· Jams and Jellies
· Laundromat
· Produce Market