Mabry Mill Restaurant & Gift Shop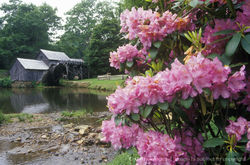 Blue Ridge Parkway Mile Post #176.1
266 Mabry Mill Road
Meadows of Dan, VA 24120
Phone: 276-952-2947
Email: mabrymill@swva.net
Website: www.mabrymill.com

This is the most photographed location on the Blue Ridge Parkway! It was built in 1910, and the historic water-powered grist mill, sawmill and nearby blacksmith shop provide you with a view of pioneer life along the Parkway. Self-guided tours include a sorghum mill, soap making kettle, and an "old time" whiskey still. Mabry Mill is known for its stone ground grits, cornmeal, and buckwheat flour, which is why travelers and locals alike come back year after year for the Mabry Mill Restaurant's famous buckwheat cakes and country ham, and Virginia barbeque. The Mabry's Mill Gift/Craft Store is stocked with a great selection of handmade gift items and regional crafts.
· Area Attractions
· Restaurants
· Retail
· Tourist Information