Chamber News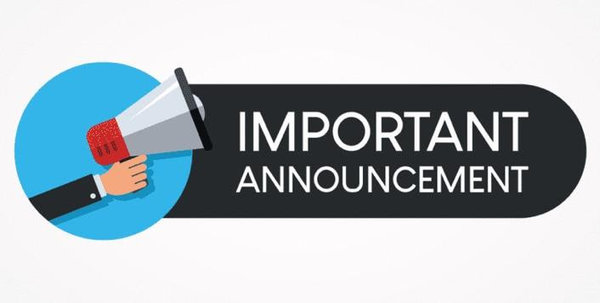 Chamber Office Relocating -- Change of Email Address Notification
January 25, 2023
New year, New email! director@patrickchamber.com. We are also in the process of moving office space to 410 Patrick Avenue, Stuart, VA. Delays in responses might occur as we move & transfer phone numbers over.

January 5, 2023
January 2023 is the kick-off month for our annual membership drive. To those who have been loyal members, THANK YOU! Without your support, the Chamber could not have been able to complete programming and projects in 2022! We have some new and exciting things happening! As we look into 2023, the Chamber's business will continue to work for our community. . . . read more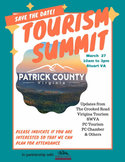 January 5, 2023
The Patrick County Tourism Department, in partnership with the Patrick County Chamber of Commerce, will host the Inaugural Patrick County Tourism Summit on March 27, 10am to 3pm, in Stuart. Location pending. In order for us to help finalize location, catering and other efforts, please register if you plan on attending. Official registration form required.
Upcoming Events
Fairy Stone State Park Visitor Center - 967 Fairys - Fairy Stone State Park will host the Moonshine Hollow Hike. Walk in the footsteps of moonshiners of decades gone by. Visit the remains of two old moonshine stills and learn about the very interesting, and sometimes tragic, history of our local moonshining activities -- Fridays, 10 a.m. at the Fairy Stone State Park Visitor Center. Guests will meet an interpreter at the Visitor Center then drive to the hike location. This hike is over steep, uneven terrain and is difficult. High top shoes, long pants, insect spray and a walking stick are advised. 1-276-930-2424 or visit www.dcr.virginia.gov/state parks/fairy-stone. . . . learn more

500 N Main Street - The Stokes County Arts Council presents "Eyes of Melody" -- an exhibit of original works by Melody Hunter. Meet and greet scheduled for Saturday, January 14th, 2:30 p.m. to 4:00 p.m. in the Apple Gallery located at 500 Main Street, Danbury, NC. Exhibit Dates: January 1st through February 15, 2023, Monday through Sunday. The exhibit and Meet & Greet is free and open to the public. . . . learn more

The Landmark Center - In partnership with the Alzheimer's Association of Central and Western Virginia, the Landmark Center and Blue Ridge Therapy Connection will begin hosting a monthly Alzheimer's Forum for anyone interested in learning more about dementia, caregiving, and other issues surrounding the disease. The program will be hosted at The Landmark Center from noon to 1 p.m. on the fourth Tuesday of each month. There is no cost to attend, and lunch will be provided. On Tuesday, January 24th, the program "Is It Normal Aging, or Is It Dementia?" which will be presented by Brooke Gill, program manager of the Roanoke chapter of the Alzheimer's Association. The program is open to anyone interested in learning more, and registration is requested to plan for the meal. If there is inclement weather that day, the program will be offered on February 28th. To attend, call (276) 694-3050 to register. . . . learn more
| | |
| --- | --- |
| | Chamber Event |
Adventure Map