Steak Dinner
May 6
Sponsored by Rotary Club, menu: steak, baked potato, salad, bread, desert, and beverage. Cost: $20, proceeds fund local projects including scholarships, Boy Scouts, Caring Hearts Free Clinic, backpack program, 4-H campers, and Patrick County Food Bank. From 4-7pm at the Hooker Building, Rotary Field, Stuart.
Rotary Building, Rotary Field - Stuart Va
Plant Donation Drop-Off
May 6
Plant Donation Drop-off for the annual and perennial plant sale fund-raiser, sponsored by the Master Gardeners. For information call (276 )692-6175. From 10am to noon, and 4 to 6pm at the Rotary Building.
Rotary Building/Field - Stuart, VA - 276-692-6175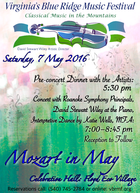 May 7
Mark your calendar and reserve your seat for a world-class concert not to be missed! Our ensemble of Roanoke Symphony virtuosi led by Artistic Director David Stewart Wiley at the grand piano will present two of Mozart's most beloved major chamber ensemble works, the Piano Quartet in G Minor, K. 478, and the Sinfonia Concertante in E-Flat, featuring acclaimed RSO principals Akemi Takayama, Kathleen Overfield-Zook, and Kelley Mikkelsen. Tickets: $15 ($18 at the door); Students $5. Dinner: $15 (reserve by April 30) For more program details and to view menu, go to VBRMF.org
Celebration Hall - Floyd, VA - 1-540-745-2784 - www.vbrmf.org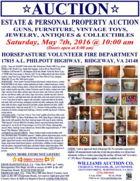 May 7
Estate & Personal Property Auction. Guns, furniture, vintage toys, jewelry, antiques, & collectibles. Saturday, May 7th. Starts at 10am, doors open at 8am.
Horsepasture Vol. Fire Department - Ridgeway - 276-340-6441
Country Breakfast
May 7
Menu: eggs, bacon, sausage, fried apples, gravy, biscuits, coffee, juice. and more. Donations benefit the church building fund, carry-out available 7 to 10am at Providence United Methodist Church.
Providence United Methodist Church - Patrick Springs
Annual and Pernnial Plant Sale Fund-raiser
May 7
Sponsored by the Patrick County Master Gardeners; proceeds benefit master gardener projects and the Alzheimer's Association. For more information call 276-952-8302 or 276-692-6175. Kid's project table(make wildflower seed balls) from 8am till noon at the Rotary Building.
Rotary Building, Rotary Field - Stuart, VA - 276-952-8302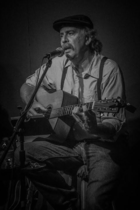 May 9
Dean Smith will be the featured player at The Rural Music Coalition on Monday, May 9, 6 - 9 PM, at The Historic Star Theater in Stuart, VA. Dean plays all the stringed instruments and writes songs…it will be fun to see what he will share with us at The Coalition! www.deansmithmusic.com
Star Theatre - Stuart, VA - 276.694.6518.

May 10
Be sure and join us this month as we join forces with one of our oldest members for our Chamber After Hours. On May 10, 2016 The Landmark Group will be the hosts for our monthly After Hours. So join us starting at 5:30 at as we visit with one of the County's most prominent businesses. It's an event you don't want to miss. Please RSVP by May 9, 2016. To RSVP email the chamber Office at patcchamber@embarqmail.com
The Landmark Center - Stuart VA - 276-692-6012
Men's Softball Sign-up Deadline
May 10
Call the recreation department at 276-694-3917 to register; Team fee: $300. Sponsored by the Patrick County Recreation Department
patrick county recreation department - Stuart Va - 276-694-3917
Unveiling of Jeb Stuart Portrait
May 12
Begins at 10am. Wall of Honor on the Second Floor hallway of he Patrick County Veterans' Memorial Building on Rucker Street, Stuart.
Veterans' Memorial Building - Stuart VA

May 13
Music Night is Friday, May 13th. Doors open at 5pm. Open MIC is at 5:30, bring your instrument and join the group. At 6:20, Sue Nester & Friends will take the stage. Mary Prillaman & High Voltage will be on at 7:10. Skyline Drive, always a favorite here will be on at 8:00. It's sure to be a great night of music and dancing. Dust off your dancing shoes, grab a friend and come hungry. Concessions will be available. A $4 donation is requested for admission. Call the Centre for more information, 276-957-5757
Spencer-Penn Centre - Spencer, Va
Stuart Farmer's Market
May 13
8 am to 12 pm Pressure canner seal lid checks & Master Gardeners.Stay up to date with all of our events with Facebook.
Stuart Farmers Market - Stuart, VA
Buffalo Ridge Pentecostal Holiness Church
May 13
Guest speaker: Investigator Danny Martin; topic: Coyotes. For more information call Deputy Dustin Foley or Sherriff Dan Smith at 276-694-3161, begins at 7pm at Sycamore Baptist Church.
Sycamore Baptist Church - 276-3161
Bluegrass Benefit
May 13
For Scotty Marshall a cancer patient; music by Doyle Lawson and Quick-silver. Tickets: $20. Call 336-341-5681 for information. Dinner at 5:30pm, music at 7:30pm at Old Carolina Country, Hwy 8 south.
Old Carolina Country, Hwy 8 South - 336-341-5681
RIDE for the KIDS
May 14
Benefit bike ride to help needy or terminally ill children in the community. $20 per bike, sponsored by the Red Bank Ruritan Club, for more information call 276-694-7190. Lunch provided, 50/50 and prize drawings. Registration at 9am, depart at 10:30am.
Lee's Kargo Convenience Store - Claudville VA - 276-694-7190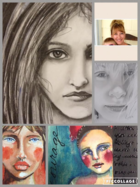 May 14
Saturday, May 14, 1pm, Instructor: Cindi Craig-Plasters In this class you will create an inspirational whimsical girl. We will use collage, acrylic paint, text, and markers. Each student will create their own unique girl. If you are a beginner I will have techniques to help you succeed. If you already paint it will be a bit of introduction into mixed media. All supplies will be provided, just bring a playful spirit and a fearless attitude. Call the Centre to pre-register. Cost: $30/members and $35 for non-members.
Spencer-Penn Centre - Spencer, Va - 276-957-5757 - www.TheCentreAtSpencerPenn.com
Cruise-In/ Bluegrass Jamboree
May 14
Featuring Two Young, Two Old. Free admission, food available. Call 276-952-2560 for more information. From 1 pm till 4 pm, at Poor Farmer's Farm. 7958 Jeb Stuart Hwy., Vesta.
Poor Farmers Farm - Vesta - 276-952-2560

May 15
Our Sunday program for May 15, 2pm, will feature Kevin Lewis and the PHCC Patriot Jazz Band; There is no charge for the concert, but donations for the band appreciated. The public is invited.
Spencer-Penn Centre - Spencer, Va - 276-957-5757 - www.TheCentreAtSpencerPenn.com
Stuart Farmers' Market
May 20
8 am to 12 pm Music by F.A.R.M. T.E.A.M.Stay up to date with all of our events with Facebook.
Stuart Farmers Market - Stuart, VA
Strawberry Festival 5K Run/Walk
May 21
Presented by the Parks and Recreation, all proceeds go to upgrading the playground equipment. $25 entry fee includes overall and age group prize, door prizes, refreshments served after the run. For more information call Rodney Holt at 276-952-8045 or email at holtrodney@hotmail.com.
Dehart Park - Stuart VA - 276-952-8045
Email for more information.
Western Movies
May 21
The library committee decided to give the Western movies another try so we have planned for May 21 at 1:00pm. Our first movie will be The Whispering starring Tex Ritter from 1944. The main feature will start at 2:15 and will be The Star Packer from 1934 starring John Wayne. Popcorn and sodas will be available for purchase. Call the Spencer Penn Centre for more information.
Spencer-Penn Centre - Spencer, Va - 276-957-5757 - www.TheCentreAtSpencerPenn.com
Gun Safety Class
May 21
On Saturday, May 21,from 8am to 12pm at the Henry County Firing Range. Registration is required by Oct. 9th. Class is taught by Henry County Sheriff's office. Limited to 12 students. Cost is $45. Students will need 25 rounds of ammo and their own gun. Call the Centre to register, Spencer-Penn Centre, 276-957-5757.
Henry Couny Firing Range - Henry County, Va - 276-957-5757 - www.TheCentreatSpencerPenn.com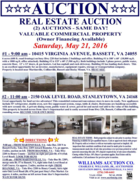 May 21
(2) auctions the same day. Valuable Commercial Property. (Owner Financing Available)!
Bassett - Basset, VA - 276-340-6441

May 21
Saturday, May 21st. 10am-4pm. There will be music, crafts, and games.
Uptown Stuart - Stuart, VA - 276-694-3811
Scam Alert/Senior Safety Checks
May 26
Presented by the Landmark Group and the Patrick County Seniors and Law Enforcement Together Council (S.A.L.T.), continental breakfast served. Call 276-694-3050 for more information. Begins at 10am.
Landmark Center - Stuart VA - 276-694-3050
Stuart Farmer's Market
May 27
8 am to 12 pm Pioneer Hospital Health Screenings.Stay up to date with all of our events with Facebook.
Stuart Farmers Market - Stuart, VA