Covered Bridge Festival-June 20, 2014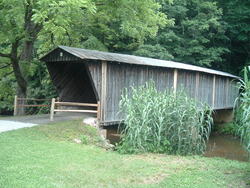 PO Box 275
Woolwine, VA 24185

Phone: 276-692-5571
Contact: Nancy Belcher
Email: coveredbridgefestival@yahoo.com

6th Annual Covered Bridge Festival at Woolwine, VA, Saturday, June 20, 2014 10am-4pm. Location is the Smith River Church of the Brethern outdoor shelter. Host is Woolwine Ruritan Club, Woolwine Volunteer Fire Dept. and Smith River Rescue Squad. Jacks Creek and Bob White Covered Bridge

Follow Rt. 8 to Woolwine, VA and look for Covered Bridge Signs.
Entertainment includes, Music, Food and Crafters.
Rental spaces 10 X 10 available.
Wagon and hayrides. A great day of entertainment!
· Area Attractions
· Crafters
· Festivals
· Music Entertainment