Chamber News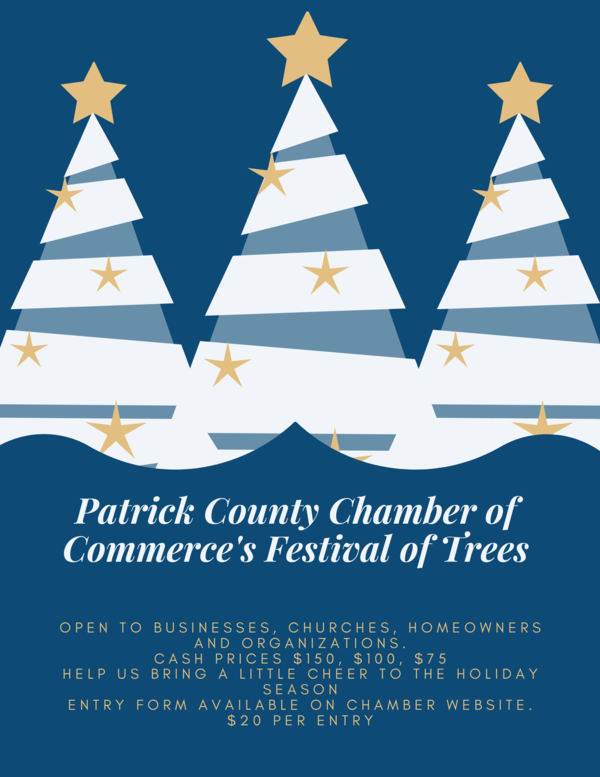 Festival of Trees
November 16, 2020
Let work to make the Holidays Brighter for all of us! Participate in the Chamber's Festival of Trees.
Everyone loved the scarecrows, so the Chamber is at it again with the Patrick County Festival of Trees. Let us make the whole county festive with decorated trees or tree creations. Contest is open to businesses, churches, homeowners, and organizations. Trees must be visible from the road. Cash prizes will be awarded to the top three who receive the most likes, comments, and votes on the Facebook Photo album. We are adding a $20 entry fee for the Festival of Trees. The money collected will be used to have signage created to be placed at each tree and for the prize money. Contest will run December 3rd through the 31st. Please have trees up and entered the contest by December 3rd.
For more information or to access the google form to upload tree picture and info, please visit the chamber website at patrickchamber.com or call the office at 694-6012.
To pay for Registration fee online
Or mail entry fee with note on check for Festival of Trees to the Patrick County Chamber of Commerce PO BOX 577, Stuart VA 24171
If you mail your entry fee, you will still need to fill out the online form to upload picture of Tree.