Chamber News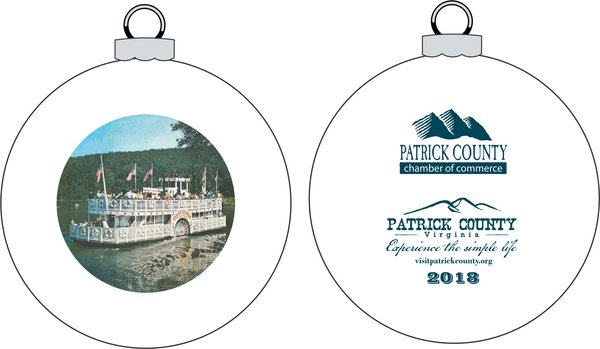 Chamber 2018 Holiday Ornament Available
January 2, 2019
The 2018 Holiday Ornament and Mug available
The Patrick County Chamber of Commerce unveiled the new 2018 holiday ornament, which depicts the Dan River Queen Steamboat during the 17th Annual Apple Dumpling Festival on Saturday, October 20th. The ornament and mug was received by the public with overwhelming enthusiasm.
"The new ornament adds to an already impressive ornament collection series", according to Rebecca Adcock, Director of the Chamber. She noted matching mugs also are available for purchase.
The Dan River Queen was once a major attraction near the Blue Ridge Parkway. Docked at the former Cockram's Mill in Meadows of Dan, the Queen offered excursion rides across the 17-acre lake.
After making its maiden voyage in 1967, the Dan River Queen was capable of carrying 100 passengers at a time. While operational for only a few years, thousands of people flocked to the area for a ride on the riverboat and a sip of sarsaparilla soda.
The Chamber of Commerce is honoring this lost treasure of Patrick County by placing its photo on our Holiday Ornament and Mug.
The beautifully crafted ornament and mug are on display at the Chamber and available for purchase between 9 a.m. and 2 p.m., Monday through Thursday at the Chamber office, which is located at 334 Patrick Avenue, across from the Farmers Market (downtown). Other locations of availability are Mattie B's located at 105 N. Main Street, Stuart, Virginia and Poor Farmers' Market, 2616 JEB Stuart Hwy, Meadows of Dan, Virginia.
The ornament is $13 and the mug is $11 (including taxes).
The ornament measures three and one-fourth inches. The mug is a classic 11-ounce matte white ceramic coffee mug.
Both depict the beautiful Dan River Queen steamboat on one side and the Patrick County Chamber/Tourism logo and the 2018 commemorative date on the other side.
For additional information about the new 2018 Dan River Queen ornament or mug, call the Chamber office at (276) 694-6012 or visit www.patrickchamber.com. This Holiday tradition is supported by the Patrick County Tourism Department.