Chamber News
September 25, 2015
When are Pancake Days? This is a frequent question asked by the many tourists and local folks who flock to Meadows of Dan on two Sundays in October for the delicious homemade food . . . read more
CANCELED 25TH ANNUAL CIVIL WAR ENCAMPMENT AND LIVING HISTORY AT LAUREL HILL
September 22, 2015
CANCELED DUE TO WEATHER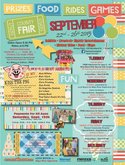 Patrick County Fair Just Around the Corner
September 2, 2015
The Patrick County Fair will be held September 22-26, 2015 Check out their Facebook page for up to the minute information... https://www.facebook.com/PatrickCountyFair
Upcoming Events
Fairy Stone State Park/Allied Picnic Area - Fresh local produce, good music and more. Every Monday beginning June 15, 2015, 5 - 7 p.m. Rain or Shine at the Allied Picnic Area - Shelters 3 & 4 FREE parking (stop at pay booth for your FREE Market Pass) If you don't need to shop, come for the free music & fun factor! . . . learn more
Sep 1-Dec 31: Willis Gap Community Center OPEN JAM
Willis Gap Community Center - Every Friday night 7:00 pm until 10:00 pm! The Center has been jamming successfully for over fifteen years. All skill levels are invited to attend. Bluegrass. Country, Old time is played during the jam, the Center also loves Gospel. Mr Otto Hiatt is Director for the order of the Jam. He plays the Large Bass, and his wife Nellie plays the Flat Top Guitar.
Oct 3-4: 25TH ANNUAL CIVIL WAR ENCAMPMENT AND LIVING HISTORY AT LAUREL HILL
Laurel Hill - October 3RD and 4th at Laurel Hill in Ararat is the event that pays a special tribute to General J.E.B Stuart, the famous Patrick County native. The event will feature authentic Civil War reenactors, including Gen. Robert E. Lee, Gen. Stonewall Jackson, Gen James Longstreet, Gen. A.P. Hill and Gen. J.E.B. Stuart. Civil War Battles, a Saturday night dance, candlelight tour, and a Sunday morning church service and of course the 1800's fashion show given by Shirley Keene who has designed and made most of these fashions. A display of Civil War artifacts and items such as books, prints, mugs, t-shirts and much more will be available for purchase. Laurel Hill is located at 1091 Ararat Highway and the encampment will be open to the public from 9:00am till 4:30pm. Admission is $8.00 per person and children 12 and under are admitted free. Parking is free.
| | | |
| --- | --- | --- |
| | | Chamber Event |