Event
28th Annual Civil War Encampment & Living History Weekend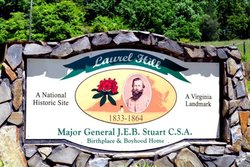 Oct 5 - 6

1091 Ararat Hwy - Ararat, Virginia 24053 - 276-251-1833 - www.jebstuart.org

Walk back in time....Come join us....Experience the Simple Life! JEB Stuart Birthplace Trust announces the 28th Annual Civil War Encampment & Living History weekend for October 5th - October 6th, 2019. Location: Laurel Hill Birthplace of Maj. Gen. J.E.B. Stuart, CSA, 1091 Ararat Hwy, Ararat, VA 24053. Time: Opens 9:00 AM. Admission $8 per person; children 12 and under free. Free Parking. Battle scenes on Saturday and Sunday. Saturday Night Dance. Sunday Morning Church Services. String Music & Civil War Sutlers. Food and much more...Bring the entire family to meet the Civil War Generals. For more information, visit www.jebstuart.org, email: laurelhill@jebstuart.org, or call 276-251-1833 or 276-930-2546.
Each year on the first full weekend in October, when the leaves are putting on their fall coats and the night air has a crisp nip, Laurel Hill steps back in time to the mid 1860's. Located in the beautiful rolling hills of Ararat, Virgnia, Laurel Hill is the boyhood home of Major General JEB Stuart. This picturesque setting comes alive with history as Civil War reenactors form the Union and Confederate armies set up their canvas tented camps and build their campfires to ready themselves for the Saturday and Sunday battles. Feel free to visit these camps and talk with the soldiers as they clean their guns, repair their uniforms, prepare a meal over the campfire, or just relax with a game of dominoes or checkers. If you have an acting bug and want to take the field with the troops, get there early and enlist for the day. Visitors are lured by the aroma of the food vendors or the music coming from the main tent, where you also find a schedule of Civil War speakers. On Saturday night this same tent becomes the scene of "the dance", where you can learn and do dances of the period include the Virgnia Reel and the Hat dance. And, on Sunday morning you can attend an authentic church service. In the ladies' tent you will find southern Belle's hosting a "Tea" with gentile foods, China cups and a period speaker. After the Tea, join us for a period fashion show as a spectator or participate and see what was involved in getting dressed in the 1860s. As you stroll through the encampment, you will be greeted by sutlers selling homemade goods, period attire, implements, books, pictures, games and toys for both adults and children. You will also want to visit the hospital tent and the blacksmith, and maybe take home a forged souvenir. You may encounter General Robert E. Lee and his horse traveler, President Jefferson Davis, or JEB Stuart himself on your stroll. Cannon fire disturbs the quiet! Excitement fills the air and with lots of noise and smoke, the battle begins. Cavalry on horseback encounter each other with swords clashing. Infantry shoot and charge across the fields leaving fallen soldiers along the way, while prisoners are being taken. The crowd applauds as the fallen soldiers join their brothers to fight another day. Join us for a day or the weekend for history and fun. See you there!