Chamber News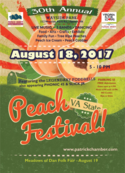 August 9, 2017
Come join the fun and all things peachy! Music with Slick Jr., Phonic 45 and The Foddrells. . . . read more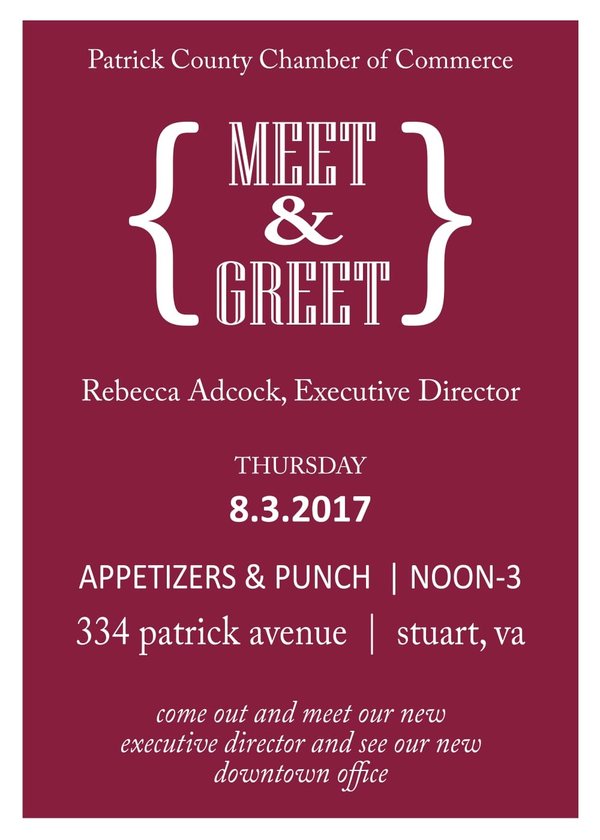 Come Meet the New Director
July 25, 2017
Stop by our Chamber office August 3rd starting at noon to meet our new Executive Director. We will have light refreshments and chances to win door prizes.
July 12, 2017
We still have room available to advertise your business as a sponsor for the largest single day event in the County, the Virginia State Peach Festival . . . read more
Upcoming Events
Aug 11-Nov 17: Stuart Farmers Market
Chestnut Street - Locally grown fruits and vegetables. Homemade baked items, fresh coffee and teas, along with great crafts. Come join the fun. Every Friday May through November 8 am to 12pm. Special events every Friday: blood pressure checks, master gardeners, kid art projects, cooking demos, knife sharpening and much more. We have a rotating schedule for the special events.
Aug 17: Native American Storytelling
Spencer Penn Center - Thursday, August 17 & 24, 6:30-8:30pm, Cost $20/member, $25/non-member Join us at Spencer Penn Centre as we welcome Renae Butterfly Morning Wagoner for a storytelling program.  Discover a new and unique way to uncover links in your family tree through Native American storytelling.  American Indian, Renae Butterfly Morning Wagoner, shares stories that will put a different spin on traditional genealogical research, all while enjoying the fun!  The stories will have you laughing, crying, and most importantly, thinking
Aug 17: Book Club
Spencer Penn Center - The Spencer-Penn Centre's Book Club will meet the third Thursday, May 18,  in the Hylton Library at 3:30pm.  Everyone is welcome, this is a free program.   May 18:  Grandma Gatewood's Walk:  The Inspiring Story of the Woman Who Saved the Appalacian Trail by Ben Montgomery.   This woman's story brought attention to the Trail and bolstered its maintenance and probably saved it from extinction. June 15:  Wish You Well by David Baldacci.  In the 1940's two children from New York City move to live with their great grandmother in the mountains of Southwest Virginia. July 20: The Color of Water:  A Black Man's Tribute to His White Mother by James McBride.  This is a memoir of a family of fourteen and the remarkable woman who kept it together. August 17:  Murphy's Law by Rhys Bowen.  The first book in the Molly Murphy mystery series brings Molly Murphy to New York in the early 1900's and involves her in a murder at the Statue of Liberty.  
| | | |
| --- | --- | --- |
| | | Chamber Event |